FMD status map on oie.int
This figure shows which  countries and zones are recognised by the World Animal Health Organisation (OIE) as free from FMD where vaccination is and is not practised, according to criteria set out in Resolution no.15 (87th General Session of World Assembly May 2019). Suspension of FMD free status where requirements have not been fulfilled is also shown.
For a full list of OIE member country statuses and further information on how these are achieved see link below.

PCP-FMD status map on gf-tads.org
Progressive Control Pathway for Foot-and-Mouth Disease
"The Progressive Control Pathway for Foot-and-Mouth Disease (PCP-FMD) developed by FAO and EuFMD and further endorsed by the OIE, guides endemic countries through a series of incremental steps to better manage FMD risks. The OIE Performance of Veterinary Services Pathway (PVS) evaluates the national Veterinary Services of the country with the aim of bringing them into compliance with OIE quality standards. Reliable veterinary services ensure not only the quality and safety of livestock production but also sustainable food security and livelihoods and contribute to disease control and safe trade.
The Progressive Control Pathway recognizes that differences in risk of infection occur between (and within) infected countries, and that countries are at different stages in managing the risk of infection. The PCP applies a risk-reduction approach in which each Member Nation is encouraged to develop national risk reduction strategies that are supportive to the regional effort. The PCP-FMD tool is a core component of Global FMD Control Strategy."
- from the PCP-FMD page on fao.org
---
A more detailed description of of the Progressive Control Pathway for Foot-and-Mouth Disease (including the Principles, Stage Descriptions, Standards and e-learning) can be found on the gf-tads and FAO websites.
---
PCP-FMD stages
0 FMD risk not controlled. No reliable information
1 Risks and control options are identified
2 Impact of FMD is reduced in targeted sectors / areas
3 Virus circulation is reduced where the national Official Control Programme is applied
4 Achieve OIE recognition of freedom with vaccination
- Maintain FMD freedom. Cease vaccination to achieve freedom without vaccination
- Maintain FMD freedom without vaccination 

view full size image
Conjectured status of Foot-and-Mouth Disease in countries according to the World Reference Laboratory for Foot-and-Mouth Disease (WRLFMD).

view full size image
Distribution of the seven endemic pools of Foot-and-Mouth Disease
Virus circulation and evolution within these regional virus pools results in changing priorities for appropriately adapted vaccines. Periodically, viruses spread between pools and to free regions, and countries at the interfaces between pools (such as in North Africa and Central Asia) often experience FMD outbreaks from different regional sources.
The boundaries of the pools have not been precisely mapped and may be dynamic. In Africa there are currently three FMD virus pools loosely defined as covering East Africa (pool 4), West Africa (pool 5) and Southern Africa (pool 6). There is some overlap between pools 4 and 5. It has been suggested to extend pool 4 southwards to include Tanzania and to contract pool 6 to exclude that country (© WRLFMD).
| Pool | Serotypes present |
| --- | --- |
| 1 | O, A, Asia-1 |
| 2 | O, A, Asia-1 |
| 3 | O, A, Asia-1 |
| 4 | O, A, SAT 1, SAT 2, SAT 3 |
| 5 | O, A, SAT 1, SAT 2 |
| 6 | SAT 1, SAT 2, SAT 3 |
| 7 | O, A |

view full size image
The purpose of the Network of OIE/FAO FMD Reference Laboratoriesis to make available accurate and timely data to support global surveillance and control of Foot-and-Mouth Disease.
The goals of the Network are:
Understanding global Foot-and-mouth disease virus distribution and patterns in order to identify threats and make vaccine recommendations

Improving the quality of laboratory tests from international and national reference laboratories

Building up local capability in support of regional control programmes
This Network arose from a meeting of the OIE ad hoc group of Antigen and Vaccine Banks (in Paris 2004) where it was decided to generate two forums to coordinate international activities: a vaccine bank network (now the IVSRN), and this Foot-and-Mouth Disease Reference Laboratory Network.
Details of the laboratories that are part of this network can be found elsewhere on this site. along with details of the Network's annual meetings.
April to June 2020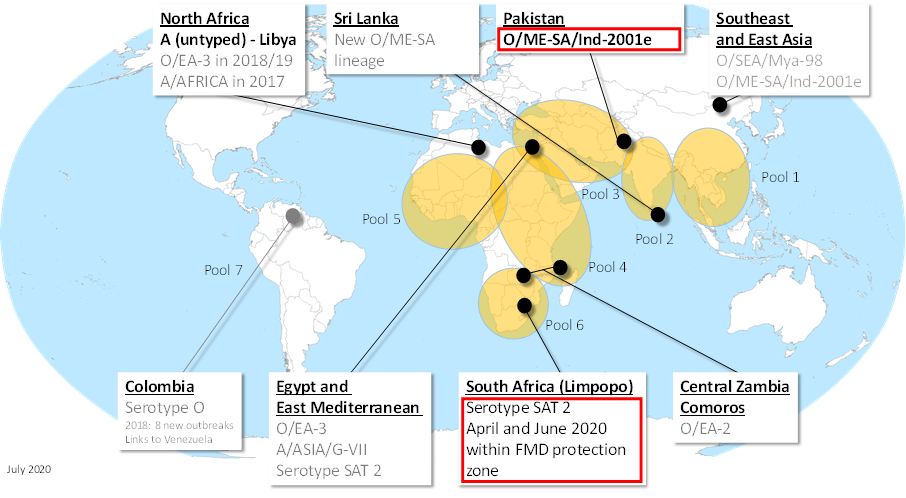 We take this opportunity to pass on my "congratulations" to Keith Sumption in his new role as the CVO for Food and Agriculture Organization of the United Nations (FAO) – and sincerely hope that he will still be able to dedicate some time to FMD-specific issues!
Over the past few months, we have all had to get used to a different way of working including learning new ways of exchanging information via remote meetings. Don King was pleased to "virtually" join in recent meetings of the South-East Asia and China FMD campaign (SEACFMD) National Coordinators to learn about the FMD situation in Southeast Asia and the inevitable impacts of COVID-19 upon local efforts to control the disease. During the shut-down period, staff from the WRLFMD have been deployed to hospitals to assist in routine COVID-19 RT-PCR testing and have also contributed to work to implement new ELISA tests to measure serological responses of COVID-19 vaccine candidates. Work at Pirbright is now slowly getting back to a new "normal" and we have started to receive overseas samples for testing as well as dispatch sample panels for the proficiency testing exercise.
This quarter there are results for samples that have been received from Pakistan where sequences recovered for the samples from Pakistan (2016, 2017, 2019, 2020) cover the three FMDV serotypes (O, A and Asia 1) that are endemic in the country. For serotype O, more than 50 percent of the sequences (n=19) belonged to the O/ME-SA/Ind-2001 clade; findings which indicate that this lineage has become more widely established in the country (after it was detected for the first time in 2019; see: https://mra.asm.org/content/9/18/e00165-20). Elsewhere, new cases of FMD have been reported in Libya (serotype A) and within the FMD protection zone in South Africa (serotype SAT 2).
The information included in the quarterly report from the WRLFMD (https://www.wrlfmd.org/ref-lab-reports) now complements the EuFMD FAST surveillance report for the European neighbourhood (http://www.fao.org/3/cb0215en/cb0215en.pdf).
January to March 2020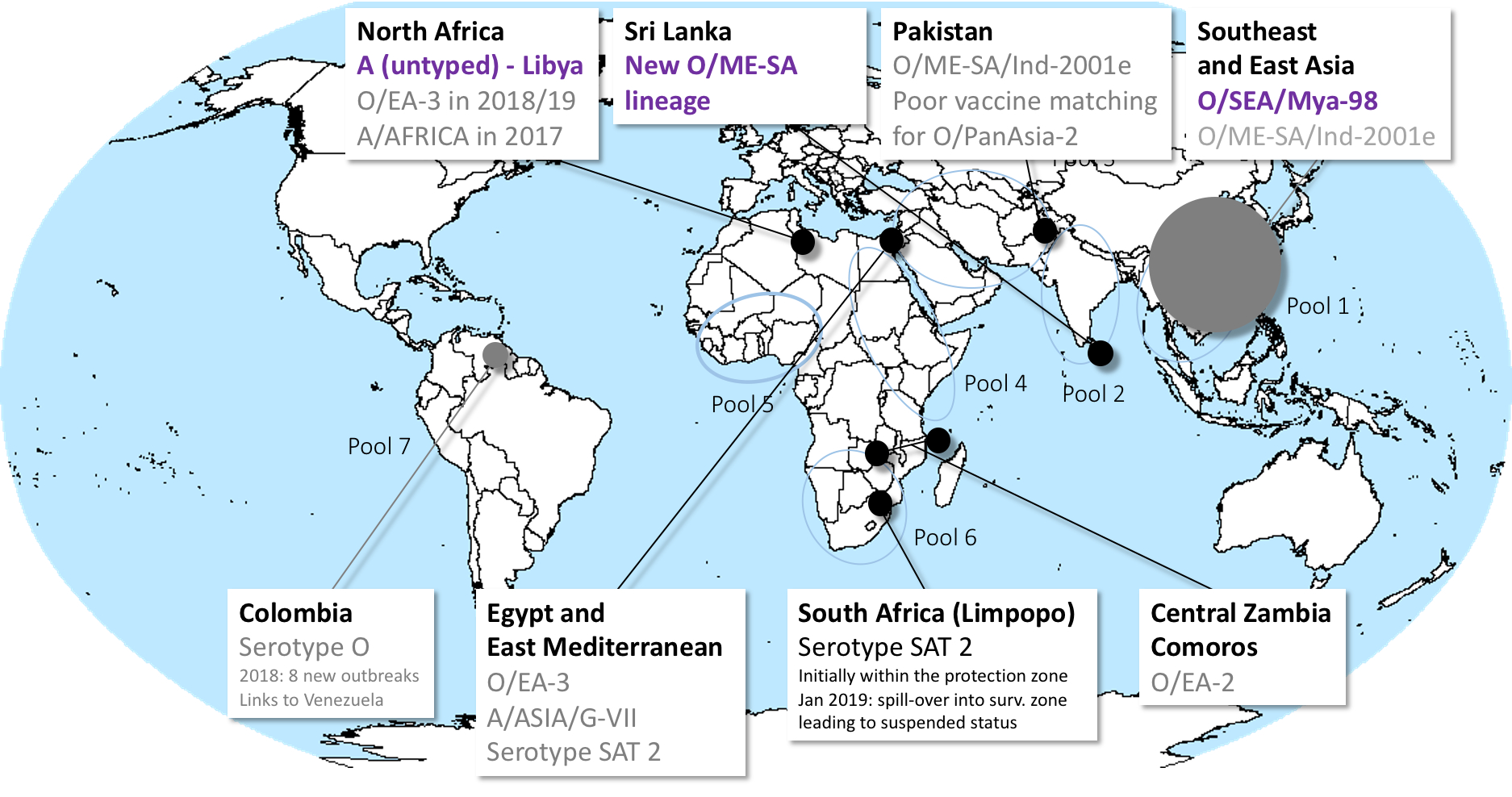 view full size image
There have been new FMD outbreaks in North Africa (Libya), from where the disease threatens the Maghreb countries; the detection of new serotype O lineages in Pool 2 (Sri Lanka) and the complexities of multiple serotype and topotype co-circulations in Pool 4 (East Africa) that indicate that more frequent and timely virus typing is required. Despite the enhanced surveillance work of the OIE/FAO FMD Laboratory Network there are significant and concerning gaps in submissions from Pool 3 (countries in Middle-East and parts of Central Asia), Pool 5 countries in West Africa (Mali, Chad, Niger) and Pool 1 countries (Myanmar and Cambodia).
There is also concern for the lack of typing of samples from Malawi given the southerly spread of FMDV from Pool 4 into Pool 3 during 2018-19 and potential for involvement with risk populations in southern Africa.
All colleagues are encouraged to assist to increase the submissions from these gap areas.
Headline events before 2020
There are currently no headline events before January 2020. However information on FMD events before Janaury 2020 can be found in:
Annual reports and minutes of the Annual Meeting from the OIE-FAO FMD laboratory network, on this website.
Quarterly reports from the WRLFMD,found on wrlfmd.org.
Monthly situation reports from European Commission for the Control of Foot-and-Mouth Disease (EuFMD),found on fao.org.